The QBZ-95 (Chinese: 轻武器,步枪,自动(简称95式), 1995; pinyin: Qīngwuqi Bùqiāng--Zìdòng, 1995; literally "Light weapon, Rifle, Automatic, 1995") is an assault rifle manufactured by Arsenal 266, part of
Norinco
and Arsenal 296, under Jianshe Corp, China South for the
People's Liberation Army
, the armed forces of the People's Republic of China, Chinese People's Armed Police (para-military police), and Chinese law enforcement. This weapon uses a newly-developed ammunition type of Chinese origin, the 5.8x42mm DBP87. The QBZ-95 consists of a system of firearms using a common design. This family includes a carbine variant, a standard rifle, and a light support weapon.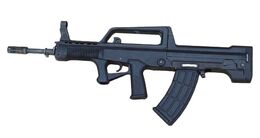 . It was the version of the
SA80
.
Community content is available under
CC-BY-SA
unless otherwise noted.